The Tooth Fixer Family Dental Care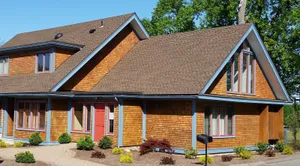 We are a family dental practice located in Vernon, CT serving the nearby communities of Tolland and Hartford Counties. We are dedicated to providing exceptional, modern dental care for of all members of your family, from children to seniors, in a welcoming and comfortable environment .
Local residents will be familiar with our unique dental office, located on Rte. 30 in Vernon, just down the road from Lafayette Plaza, across from the Northeast School and Nature's Grocer. This office was built 25 years ago by Dr. Harold Kadish. Many of his former patients may also recognize the new owner and dentist Dr. Katerina Ashland.
Our office is dedicated to our patients' comfort and convenience. Less than a mile from Exit 67 off I-84, our office is conveniently located for residents of Tolland, Willington, Stafford, Rockville, Ellington, Vernon, Coventry and Bolton. We offer off-street parking and easy access for seniors and strollers alike, no steps or stairs to climb.
Once inside, you will find inviting reception area with an atrium ceiling and all the comforts of home. No hard waiting-room chairs here. Instead, you will find comfortable leather seating, plenty to read, complimentary coffee bar, and a flat-screen TV.