Dr. Ashland knows the important role every member of her team plays in ensuring you a great total experience at The Tooth Fixer. With this in mind a lot of thought and care is given in choosing the very best professionals to support her in this goal. From answering your phone calls politely and professionally, to making sure you are comfortable while having treatment, every staff member shares in this commitment. This dedication is continued through ongoing education to ensure our staff is knowledgeable on the latest dental technology, treatment and office procedures.
Katerina Ashland, DMD
Dr. Ashland first became a dentist in Europe in 1999. After moving to the US, she came to work at this very office. During this time, she was encouraged her to return to dental school so that she could again practice dentistry here in the United States. She graduated from the UConn School of Dental Medicine and went on to complete a residency program at VCU in Richmond, Virginia. While practicing at a busy and prestigious practice in Lynchburg VA, Dr. Ashland realized how much she missed the charm of New England. She decided to move back home to Connecticut. Whether by chance or destiny, she was given the exciting opportunity to own and practice the very same office where her journey began.
Dr. Ashland is guided by the simple philosophy of treating each patient as if they were a member of her own family. She is gentle, compassionate and dedicated to caring for her patients' dental needs and concerns. She looks forward to providing the community excellent dental care for many years to come. Dr. Ashland would like to invite you all to stop in and visit her newly renovated practice.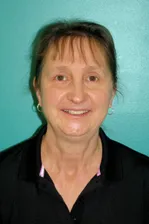 Lynn, Dental Hygienist
Lynn became a dental hygienist in 1979. She graduated from the Dental Hygiene Program at Tunxis Community College in Farmington and completed her practical work at UConn Health Center. Lynn met Dr. Ashland nearly 20 years ago working together with her in this very office. After a number of years apart, their paths would cross again. Lynn feels blessed to be back working as a hygienist at the Tooth Fixer. Lynn and her husband Gary will be married for 40 years in 2021! They have 2 adult, married daughters and are very proud of them both! She loves to spend time with her family, travel, camp, and go hiking. Lynn has a strong Christian faith and gives much of her time volunteering and helping those in need. She delivers Meals on Wheels and volunteers at the town soup kitchen. She has made mission trips to Alaska, New Orleans, Haiti and the Philippines, bringing dental supplies and providing dental services and education. Lynn has also volunteered six times at the CT Mission of Mercy. At work, Lynn enjoys caring for her patients, and educating them to help them achieve excellent oral health!

Denise, Dental Assistant
Denise started her career as a Dental Assistant eighteen years ago. She graduated from the Porter & Chester Institute in Enfield. After graduation, she was hired to work for a pediatric dentist in Simsbury, CT. She worked there for five years. She then worked for a general dentist in Enfield, CT for the next ten years. Denise has now begun the next chapter in her dental career, working as a full-time Assistant for Dr. Ashland right here at The Tooth Fixer Family Dental Care. Now living in Tolland county, Denise enjoys spending her free-time with her husband and family, hiking, photographing wildlife and traveling. Her chair-side patient care is top-notch. We are glad to have her on our team.
Heather, Dental Assistant
Heather joined our team in 2020. She started her career in the dental field back in 2011 after graduating from the Windham Tech post-graduate Dental Assistant program. Prior to this, she spent nine years as a nursing assistant. Heather is a loving Mom and Step-mom as well as an avid animal lover. It's pretty clear that taking care of others comes very natural to Heather, and it shows in how well she treats our patients every day. We feel lucky to have her working with us here at The Tooth Fixer, and you will too. In her spare time, Heather enjoys her photography hobby and spending quality time with her family.